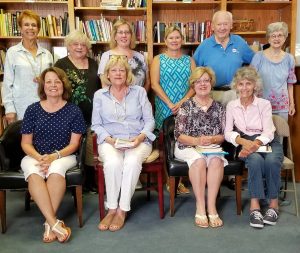 Why Join a Small Group?
Experience fellowship and develop deeper relationships with other believers.
Offer and receive care, support, and encouragement in an intimate setting of believers.
Grow spiritually through the discussion of God's word and learning from one another.
Deepen your prayer life as you pray together and for one another.
Take church deeper as you ask questions and express curiosity in a way that regular Sunday worship doesn't permit.
Help the church grow by engaging in discipleship, mission work, and reaching outward to the community.
Would you like more information about why small groups are so important? Click on the links below.
Ten Reasons to Join a Small Group
Four Reasons Small Groups Are Vital to Your Church's Health
10 Benefits of Church Small Groups
7 Reasons to Join a Small Group
Small Groups at Ghent UMC
Sunday School
Sundays at 9:00 am in the church library. All materials are provided, and all are welcome to begin attending at any time.
Tuesday evening small group
The current study began Tuesday, March 3rd. The Tuesday night small group weekly discussion is on the book Prayer: Does It Make Any Difference?, by Philip Yancey, in which the author seeks to be a pilgrim trying to understand prayer, discusses the things we pray about, and gives some insight into the act of praying. Email Jonathan Tanner or talk to him in person if you are interested. The study will meet weekly on Tuesday evenings, 6:30-8:00 pm, through the beginning of June, and child care will be available.
Ghent Inspire Book Group
Meets on the third Thursday of each month. Next meeting is Thursday, March 19th at 7:30 pm.
The book is Ben & Erin Napier's book "Make Something Good Today: A Memoir." It goes through Jesus' first encounter with his disciples all the way to his suffering, death, and resurrection.
All are welcome to attend the book group for fellowship, regardless of whether or not you've read the book. For more information, contact Lynn Tiedge.
Friday morning Bible Study (seasonal)
Current Study: Lysa TerKeurst's six-session study, entitled "Overcoming Our Greatest Struggles to Trust God," will take us through 1 & 2 Kings, and we will explore the deeply personal applicable scriptures that will teach us how to truly trust God. Bible Study meets Fridays at 10am in the church library. For more information, email Debbie Bonnewell or call her at 757-870-8299.
Contact our Discipleship Director, Jonathan Tanner, for information about our current small group offerings, which change regularly, or if you have an idea for a new small group.