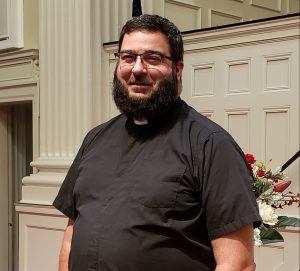 Rev. Ryan Schaeffer, Lead Pastor
A Message from Our Pastor
In a world that is filled with so much bad news and demands perfection from us in mind, body, and spirit, it can be a relief to learn we have a God who cares enough to send us His own Son, Jesus, to bring us grace, peace, and a sense of purpose in the midst of our lives. We have a God who sees our flaws and our scars, and loves us unconditionally. No matter who we are or what we've done, God loves us so much that Jesus died for us.
If you are searching for a higher purpose; if you are searching for a church and a God who accepts you for who you are, and loves you unconditionally; if you have been searching for a church that talks the talk AND walks the walk; if you've been longing for passionate worship that inspires and challenges, small group studies that enlighten, and ministries that seek to serve as Christ first served us; welcome home.
Our History
Ghent United Methodist Church was established in 1902 by the Virginia Conference of The United Methodist Church to make disciples of Jesus Christ. Two church buildings preceded our current sanctuary which was built in 1921.
Our education building was added in 1925. Ghent United Methodist Preschool (GUMP) opened its doors in 1992 as a Mother's Morning Out program and a mission of Ghent United Methodist Church. By 1994, GUMP had blossomed into a half-day preschool for young families, incorporating the philosophy of fun-based learning to serve our community ever since.
In 2015, our church was selected to be the recipient of grants from our Conference and the Elizabeth River District of The United Methodist Church, as part of a church revitalization project.