Welcome to Norfolk!
CLICK HERE to see an interview with Kevin Ringelstein, an active duty Naval officer who, along with his young family, was a member of Ghent United Methodist Church for seven years. Learn about the overwhelming love and support that he, his wife, and his small children found among our congregation as he served our country.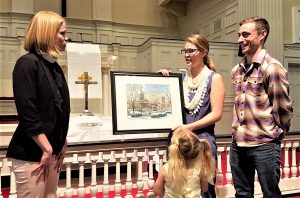 Ghent United Methodist Church has a long tradition of serving active duty military members, veterans, and their families. We know how important it is to find a church and feel connected to your community as soon as possible, given the short time you may have before it's time for your next PCS. We also know how important it is for your active duty serving member to feel reassured that his or her family is surrounded by a caring community during a deployment.
We have a deep appreciation for the sacrifices, the moves, the deployments, and all that accompanies military life. We understand that you are seeking a community that will welcome you in and make you feel at home immediately and that can offer a dynamic, focused ministry designed to address the unique needs and challenges faced by service members and their families. That's what you'll find here at Ghent United Methodist Church. Welcome home!
Here are just a few things that may be available from our Military Ministry:
Newcomer Dinners: A meal hosted in the home of a congregation member to allow time for fellowship and conversation. Children are welcome to attend with their parents as these dinners are family friendly events.
Supporting Family Readiness Groups: Our church facility and nursery are available for Family Readiness Group (FRG) meetings.
Small Groups: Small groups offer the opportunity to live out the teachings of Jesus. They aren't meant to replace Sunday worship, but to enhance it by offering a venue for greater spiritual growth and discovery, tighter communities whose members can minister more effectively to one another, and closer, more intimate friendships.
Deployments: As part of our Congregational Care ministry, we seek to minister to deployed service members and their families in appropriate ways. We are also able to provide referrals to services for those experiencing challenges associated with deployment, marriage and family, and combat trauma related issues. If you are currently deployed, about to deploy, or have a friend or family member deploying from our area, please contact Pastor .
Partnering with Chaplains: We love to support and partner with chaplains! Interested chaplains should contact Pastor Ryan Schaeffer for details.
Transitioning to or from Hampton Roads?
Please let us know how we can help you make your transition to Hampton Roads as stress-free as possible. Are you planning to PCS from our area in the near future? We can help! Many of our former military members can help with resources in other locations.
For more information, please contact Pastor Ryan.